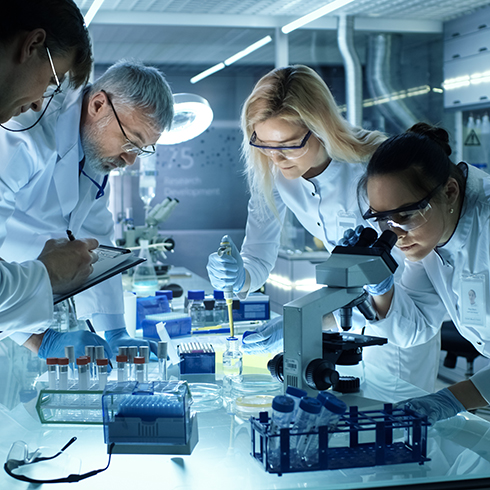 Our Technology
Nanocan is the exclusive worldwide license holder of the Immunogenic Smart Radiotherapy Biomaterial (iSRB) technology. Read about the licensing of its iSRB technology here. The iSRB technology is the foundation for the drug-delivery platform for Nanocan's planned product development of treatments for several cancer indications. Nanocan's nanoparticle drones can be employed to sustainably deliver different drug payloads – including immunotherapy drugs, chemotherapy drugs, and phytomedicines – precisely to disease sites or targets, with greater therapeutic efficacy. This work leverages the abscopal effect, whereby treating a tumor at one site leads to regression of tumors at other sites.
The capabilities of Nanocan's nanoparticle drones include:
Targeting – To attack specific tumors at a zip code level.
Emits Electrons – To amplify radiotherapy with missile-like electrons.
Imaging – To track the drones throughout the body.
Drug Payloads – To deliver targeted and sustained drugs to the tumor site.
Nanocan's approach has promise to transform radiotherapy by extending radiotherapy to the treatment of both local and metastatic disease, reducing treatment time and cost, improving patient convenience, and increasing access to cancer treatment.
Nanocan's therapeutics present several advantages over currently-available treatments, including:
Enhanced bioavailability
Sustained drug delivery, which reduces dosing frequency, improves patient compliance, and decreases incidence of any side effects
Improved biodegradation and clearance from the body
Image-guided monitoring of distribution and treatment response via Computed Tomography and Magnetic Resonance Imaging
Additionally, the Company's nanoparticle drones can be employed to deliver a variety of drug payloads, including phytomedicines, to potentially treat certain respiratory diseases and pain.